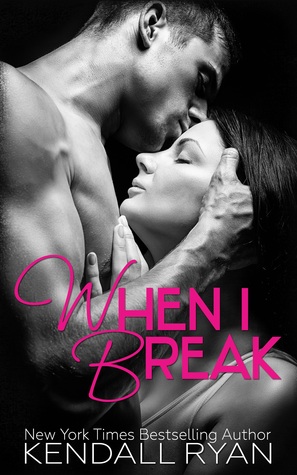 Release date: February 24th 2014
Publisher: Kendall Ryan Books
Purchase:
Amazon
Synopsis via Goodreads:
What happens when a sex addict falls for a virgin?
This book is intended for a mature reading audience and contains adult language and themes. Contains a stubborn alpha male with addiction issues and loads of sexual tension between two damaged characters. Read at your own risk.
Knox Bauer's life has unraveled to the point of no return. Fighting to fill the emptiness inside himself, he seeks solace in unfamiliar beds with unfamiliar women. As guardian to his three younger brothers, he can't seem to do a thing right. But this can't go on...they look up to him in every way and all he's done lately is prove how messed up he really is. Needing a change, he attends a local Sex Addicts Anonymous meeting, where he finds himself tempted by the alluring instructor, McKenna.
Twenty-one year old McKenna is trying to make amends. After losing her parents in a horrific accident, she knows if she can just be good enough, maybe she can forgive herself for what happened. With her newly acquired degree in counseling, she begins leading a sex addicts group where she meets the troubled Knox and her life takes on complications she never bargained for. She doesn't have time for a bad boy who only wants to take her to bed, even if her body disagrees. The fixer in her wants to help, but trusting Knox's true motivations might take more courage than she has.
*Purchased ebook on Amazon
Well, that was an interesting and rather short read. I literally had to fan myself when I finished. When I Break was...steamy, without a doubt, tense, held my interest, and really well-written. But I was disappointed when I stumbled unto the rather abrupt cut off and my kindle app told me that was it for the first book. I don't mind cliff-hangers, but that one left too much up in the air. Still, it was a good read.
The plot was good. From the first page I was curious as to the outcome of the character's growing feelings for each other because their situation is odd. I mean, its not often a guy gets swept away by his sex addiction counselor and I'd never read such a scenario prior.
I didn't warm up to Knox right away. His treatment of that girl in the first scene threw me and I found him to be disrespectful of the opposite sex. Once things started to unravel though, where his past mishaps with being arrested as well as how he used sex as an escape, his behavior started to make sense. Knox is the guardian of his three brothers and its a lot to take on. I can see how his family situation would affect him as well, especially since they were abandoned by their father. Now he comes across a woman, McKenna (I liked the name) who makes him feel at ease and he finally tries to cease his wanted to hookup with random women. She gives him hope that he can change, and I like that McKenna made such an impact on him. She tamed the beast so to speak.
As for McKenna's character, I liked her, especially when I saw how selfless she was. She volunteered her services into helping others and at first it seemed that's what it was with Knox, until she realized her feelings for him ran deeper. McKenna has her own share of problems too. She's still coping with the loss of her parents and learning to live life on her own. The only issue is, that annoying Brian keeps sticking to her like a leach. That bugged me. I know she appreciates his help and the fact that he helps her take care of expenses, but jeez, she so needs to get rid of his overprotective annoying ass. Fast too. I mean, it's not like she reciprocates his feelings so why have him cling to her making things hard for any other guy, like Knox for instance.
Anyway, like I said, both individuals have a lot to deal with but opened up to each other and found something that draws them together. Knox's addiction makes McKenna hesitant though and that's understandable, as he has to learn all over how to take things slow and make himself worth her trust. As I've mentioned before, that while the story is good and kept my interest, I was upset by the abrupt ending or lack thereof. I understand it is a series, but I feel there were some things that could have been addressed before a conclusion to the first book. Still, its an interesting read with an interesting plot.