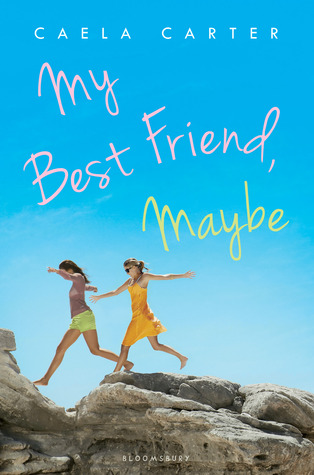 Release date: June 3rd 2014
Publisher: Bloomsbury
Purchase:
Amazon
Synopsis via Goodreads:
Colette has been bored and lonely ever since her best friend, Sadie, dumped her the summer before they stared high school. She tries to be perfect for everyone left in her life: her parents, her younger brothers, her church youth group, even her boyfriend, Mark. But Colette is restless. And she misses Sadie.
When Sadie tells Colette that she needs her old friend to join her on a family vacation to the Greek Islands, one that leaves in only a few days, Colette is shocked to hear their old magic word: need. And she finds herself agreeing.
Colette tries to relax and enjoy her Grecian surroundings but it's not easy to go on vacation with the person who hurt you most in the world. When the reason for the trip finally surfaces, Colette finds out this is not only a fun vacation. Sadie has kept an enormous secret from Colette for years...forever. It's a summer full of surprises, but that might be what Colette needs.
*Approved of ecopy by publisher via netgalley, in exchange of an honest review
My Best Friend, Maybe started out a bit slow, but after Colette got over certain guilt and made a decision, the story picked up for me. It turned out to be quite an interesting reading experience because I'm not sure I would have done the same thing had I been in her shoes. While reading, I kept thinking how I would have reacted when a friend who stopped speaking to me for years suddenly came up to me, wanting me to travel out of the country all because she "needed" me and I'm supposed to honor some promise from way back.
First of all, I would demand answers, and that bugged me a bit about Colette's character because she didn't speak out enough about stuff that confused or annoyed her. On the other hand, it is sort of understandable when you get a sense of the way she grew up. She had to spend her life trying to be perfect and doing everything right in the eyes of her mother and everyone else. And when she finally went on the trip to Greece (the description was wonderful by the way) and started to question everything, she kind of started to have a mind of her own. Though it took too long, I'm glad she found her voice and demanded answers. Not only from Sadie but from her mother. Still, it was obvious and she seemed a bit naive at times.
I liked how the story depicted friendship and how the characters placed such a strong value on that. It was rather moving, on an emotional level, the way they reconnected and grew up from their misunderstandings. I'm happy they had a nice ending in spite of all the issues and giving a sense that it won't work out in previous scenes.
Of course, it wasn't just about Sadie and Colette's friendship and what caused it to stop for a while. There were other aspects of the story that impacted them. Like Colette's parents' marriage and the issues they were facing, as well as a teen girl coming to terms with her sexuality. It definitely had a lot going to hold your interest, not just two girls going back and forth with who's to blame.
Overall, it was a good story and I don't want to say more about it and risk spoiling it. But it is great writing and interesting themes that will have you thinking. Good job, Caela. I look forward to reading more of your work.