The Stephanie Diaz YA Dystopian Extraction Blog Tour has ended. See details below: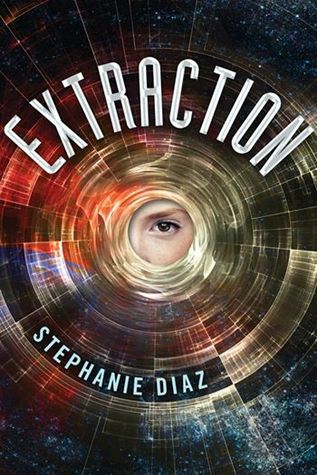 Series: Extraction #1
Release date: July 22nd 2014
Publisher: St. Martin's Griffin
Purchase:
Amazon
Synopsis via Goodreads:
"Welcome to Extraction testing."
Clementine has spent her whole life preparing for her sixteenth birthday, when she'll be tested for Extraction in the hopes of being sent from the planet Kiel's toxic Surface to the much safer Core, where people live without fear or starvation. When she proves promising enough to be "Extracted," she must leave without Logan, the boy she loves. Torn apart from her only sense of family, Clem promises to come back and save him from brutal Surface life.
What she finds initially in the Core is a utopia compared to the Surface—it's free of hard labor, gun-wielding officials, and the moon's lethal acid. But life is anything but safe, and Clementine learns that the planet's leaders are planning to exterminate Surface dwellers—and that means Logan, too.
Trapped by the steel walls of the underground and the lies that keep her safe, Clementine must find a way to escape and rescue Logan and the rest of the planet. But the planet leaders don't want her running—they want her subdued.
With intense action scenes and a cast of unforgettable characters,Extraction is a page-turning, gripping read, sure to entertain lovers of Hunger Games and Ender's Game and leave them breathless for more.
About the Author
Twenty-one-year-old Stephanie Diaz wrote her debut novel, Extraction, when she should've been making short films and listening to college lectures at San Diego State University. When she isn't lost in books, she can be found singing, marveling at the night sky, or fan-girling over TV shows.
NOTE

: Please do not post any negative reviews that is hurtful to the author and affects the promotional purpose of the tour. Post the blurb and giveaway instead, or send me an email if you'd like to back out. Thank you for understanding.
July 21st -
Addicted Readers *Review & Dream Cast (blogger's choice)
Curling Up With A Good Book *Interview
My Book Addiction *Review
Musings of Immortals *Spotlight
July 22nd -
The Eater of Books!
*Spotlight
Some Like It Paranormal *Review & Favorite Quotes
A Dream Within A Dream
*Review & Excerpt (blogger's choice)
July 23rd -
Hollywood the Write Way
*Review & Playlist (blogger's choice)
WOrkS of FiCTioN *Interview
July 24th -
Istyria book blog *Excerpt
Paper Cuts *Review & Favorite Quotes
A Book Addict's Bookshelves *Interview
Bookworm for Kids *Review
Booky Thoughts and Me *Review & Favorite Quotes
Always a Booklover *Spotlight
July 25th -
Behind the Pages *Guest Post
Bibliophilia: A Love Story *Review & Dream Cast (blogger's choice)
Bookworm Dreams *Review & Favorite Quotes
*No posts on weekends.
July 28th -
The Unofficial Addiction Book Fan Club *Guest Post
July 29th -
Lost in Ever After *Review
The YA's Nightstand
*Spotlight
July 30th -
Chapter by Chapter *Interview
Mother/Gamer/Writer *Review & Excerpt (blogger's choice)
July 31st -
The Cover Contessa *Spotlight
Bookraptured *Review & Favorite Quotes
August 1st -
Her Book Thoughts! *Review & Playlist (blogger's choice)
MichaelSciFan *Review & Excerpt (blogger's choice)
Dazzled by Books *Review & Excerpt (blogger's choice)