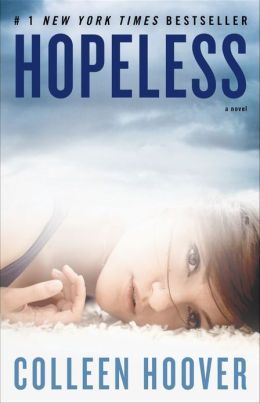 Series:
Hopeless #1
Release date: December 17th 2012
Publisher: Atria
Purchase:
Amazon
Synopsis via Goodreads:
Sometimes discovering the truth can leave you more hopeless than believing the lies…
That's what seventeen-year-old Sky realizes after she meets Dean Holder. A guy with a reputation that rivals her own and an uncanny ability to invoke feelings in her she's never had before. He terrifies her and captivates her all in the span of just one encounter, and something about the way he makes her feel sparks buried memories from a past that she wishes could just stay buried.
Sky struggles to keep him at a distance knowing he's nothing but trouble, but Holder insists on learning everything about her. After finally caving to his unwavering pursuit, Sky soon finds that Holder isn't at all who he's been claiming to be. When the secrets he's been keeping are finally revealed, every single facet of Sky's life will change forever.
Due to sexual content and heavy subject matter, this book is recommended for ages 17+
*Purchased ebook on Amazon
Wow. Just wow. You know when a book gives you all sorts of emotions, (from happy to sad, to wanting to slap someone, well maybe that's a bit extreme), but anyways, the book is so wonderful that you're left utterly speechless and can't even find the right words to give it enough justice. Because it's that great. I don't know why I waited so long to read Hopeless but I feel like kicking my own ass cause I was definitely missing out.
The story is beyond well-written, heartfelt, relatable, intense, substantial, thought-provoking, lovable, and all the other English words that define a flawless creation.
I truly wish that I'd started this one before Finding Cinderella, because I feel it's partly the reason why I didn't want to read Hopeless. I didn't enjoy Finding Cinderella because of its premise, but this book...this one gave me the fireworks that I so badly want to experience whenever I read.
Okay, let me arrange my thoughts so I can clearly state what makes it so great to me. First of all, the main characters had me at first eye contact. I knew there was more going on where Holder is concern and how he relates to Sky, but I liked how it all played out. I really enjoyed their chemistry and how humorous they were. All those sarcastic remarks and when he'd show up to her house were my highlights. Read and discover why. Those scenes in particular when they connected on an intimate level was new to me, I'd never read that in any book before and I liked how it was all described in a way that I could actually feel the emotions.
Secondly, I like that their relationship wasn't the only focus of the story. There's so much more going on for both characters individually and together and I never anticipated where it was going. It wasn't predictable at all. That's another great thing about the story.
What else? The mom was great, in spite of how Sky ended up in her life. And I don't blame her one bit, even if it was unfortunate for Holder's sister. And also, her best friend, whose name I still don't get even after reading Finding Cinderella, she's a good friend and I enjoy her texts. By they way, it was rather interesting reading about a teen girl who had been so sheltered to the point she was kept from all things technology. The reason behind that made sense but it was still so different and I found it fascinating how Sky didn't even know how to use a cell phone. Sorry if I just spoiled that for you. I guess I'll stop here so I keep from spoiling it further.
Overall, like I said it was a really wonderful story and deserves all the hype and rewards received. Good for Ms. Hoover, she's a terrific writer and I'm definitely going to read Losing Hope along with her other books in the coming days.