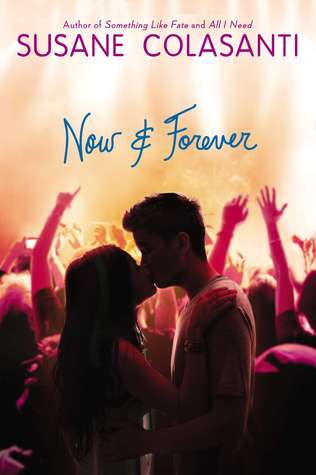 Release date: May 20th 2014
Publisher: Viking Juvenile
Purchase:
Amazon
Synopsis via Goodreads:
What if your boyfriend was the world's biggest rockstar?
Sterling is crazy in love with Ethan. Not only is he the sweetest boy she's ever met, but he's an incredibly talented guitarist, singer, and songwriter. And since forever, he's believed he has what it takes to be a star.
When Ethan becomes an overnight sensation, he's thrown head-first into the glam world of celebrity-and so is Sterling. Before she knows it, she's attending red-carpet premieres, getting free designer clothes, and flying around the country to attend Ethan's monumental sold-out concerts.
It's a dream come true...but whose dream is Sterling living? And what do you do when "forever" comes to an end?
*Received finished hardcover from the publisher in exchange of an honest review.
This was my first Susane Colasanti book and I have to say I was expecting more, based on some of the positive feedback from her previous books. At first, I was like this:
Cause it's Susane Colasanti and it's YA contemporary and I love stories about young love and people turning into global music sensations. Then my excitement sort of went down by page.
Now & Forever had its moments, and then there were times I felt it was lacking in a sense. I liked the premise of a teen boy realizing his dream and becoming a big pop star, as well as a young relationship trying to make it through that. However, I just didn't like the male character enough to care about their love. I know, that's sad, but it's how I felt throughout the book.
Sterling (liked the name) was a likable one, though her obsession to fix typos had bugged me a tad sometimes. Thankfully from the middle on it sort of simmered because that was putting me off her. Once that was drowned out, I liked her more. She had dreams just like Ethan did and she wasn't going after them or taking the time to discover herself, instead she was putting her life on hold for him. Throughout the story it was all about Ethan and how she'd be perceived by magazines and his over-the-top fans. When she meets another guy, Damien, and they develop this wonderful friendship. I liked Damien from start. He pulled me in the way Ethan couldn't. And I was anticipating the end of Sterling's played out relationship with a guy who obviously had changed (actually to me, he was like that from start but everyone just failed to see) just so she could start something even greater with Damien. While the ending didn't go exactly like that, it sure was sweet anyway.
As for other characters, I didn't really care for them. Georgia was a cool friend until the stress of Ethan's fame took a hold on her friendship with Sterling. And Grams was awesome. So sad what happened to her. That's about where my interest ended in regards to secondary characters though. None were very much impactful.
In the end, it wasn't a bad read; It had a good pacing, nailed the world of music and touring, and what sudden fame can do to a young relationship. And I liked how Sterling had an awakening (though it took something to actually happen for her to wake up) and started to think more about herself and not make her life revolve around Ethan anymore. That epitome was a great addition because at one point I wanted to shake her. My issue is that while there was so much potential, I didn't get the fireworks. It's not about me being older than the characters either because I love YA and especially contemporary, it's just that there were things that rubbed me the wrong way.