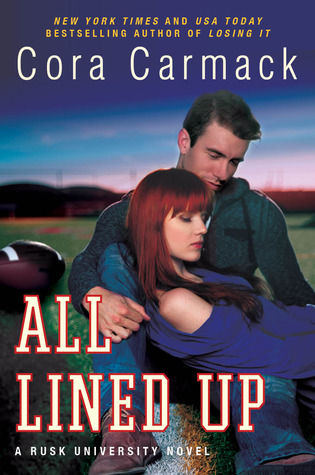 Series:
Rusk University #1
Release date: May 13th 2014
Publisher: William Morrow
Purchase:
Amazon
Synopsis via Goodreads:
New York Times and USA Today bestselling author Cora Carmack follows up her trio of hits—Losing It, Faking It, and Finding It—with this thrilling first novel in an explosive series bursting with the Texas flavor, edge, and steamy romance of Friday Night Lights.
In Texas, two things are cherished above all else—football and gossip. My life has always been ruled by both.
Dallas Cole loathes football. That's what happens when you spend your whole childhood coming in second to a sport. College is her time to step out of the bleachers, and put the playing field (and the players) in her past.
But life doesn't always go as planned. As if going to the same college as her football star ex wasn't bad enough, her father, a Texas high school coaching phenom, has decided to make the jump to college ball… as the new head coach at Rusk University. Dallas finds herself in the shadows of her father and football all over again.
Carson McClain is determined to go from second-string quarterback to the starting line-up. He needs the scholarship and the future that football provides. But when a beautiful redhead literally falls into his life, his focus is more than tested. It's obliterated.
Dallas doesn't know Carson is on the team. Carson doesn't know that Dallas is his new coach's daughter.
And neither of them know how to walk away from the attraction they feel.
*Purchased ebook on Amazon
This was a fast-paced story that I truly enjoyed. With a few minor details that bugged me about the female protagonist, the experience was great for me and I'm glad I finally picked up a story written by Carmack.
All Lined Up really delivered a realistic portrayal of college kids trying to figure out their lives. I liked that the story's told in alternating POVs so that readers can get inside the head of both Dallas and Carson. Let's start with the latter because I really liked him and had no issues with him at all. Carson was...how to say it....a sweetheart. I liked how supportive, hard-working, and ambitious he was. He knew what he wanted and he went for it. I liked the fact that as much as he had feelings for Dallas, initially he was willing to suppress that for her sake and for trying to stay focus on his goal. And when their feelings for each other proved to be too strong to fight, it was wonderful seeing how much he wanted to make things work while trying to make her feel comfortable with however she wanted the relationship to be. Carson really catered to Dallas' needs throughout the story and he was impeccably lovable. This is the kind of boyfriend girls should have.
Where Dallas is concerned, I liked her somewhat, but at times I was kind of mad at her because she could be hardheaded and dramatic in her reactions to certain things. While her feelings were understandable in some aspect, being that she's the daughter of a stern college football coach and half the team wanted to hook up with her, there were times I felt like she was too angry at the world and needed to sort out her emotions. Thankfully for Carson, her shield began to crack and she started to open up and realize that she needed to figure things out and not be so enraged about stuff not working out and being held back. Cause really, it only takes her being a bit more driven in going after her dreams and not allowing her father to dictate (even though he has her best interest at heart.)
Speaking of Dallas' father, he was a good character. A great coach too, and as much as Dallas goes on about him, I didn't get the sense that he was as fearful as she made him out to be. He seemed like a nice enough man and he wasn't even too hard on Carson, even when he found out about their relationship.
Other characters I liked were Stella (love the inclusion of diversity because it adds variety). She was a cool, fun friend. Just hated that she wanted to hook up with a slime like Silas even though he wanted to hook up with Dallas. Well, whatever, that's her I guess. And oh, I liked Carson's friend, Ryan. I wish we got a lot more of him in the story and hopefully he'll be included a lot more, as in play out an interesting story surrounding him in the next installment.
Overall, it was an enjoyable read. I liked that this is a series and we get to experience more of this exciting college life of two interesting characters. Definitely going to stick with it to discover how their lives take off from here on out.