Series: Gated #2
Release date: August 26th 2014
Publisher: Random House Books for Young Readers
Purchase:
Amazon
Synopsis via Goodreads:
Lyla is caught between two worlds. The isolated Community that she grew up in and the outside world that she's navigating for the very first time. The outsiders call the Community a cult, but Pioneer miraculously survived a shooting that should have killed him. Are the faithful members right to stay true to his message? Is this just a test of faith? One thing is for sure: the Community will do anything to bring Lyla back to the fold. Trapped in a spider's web of deception, will Lyla detect the sticky threads tightening around her before it's too late? She'll have to unravel the mystery of what Pioneer and the Community are truly up to if she wants to survive.
Suspenseful and chilling, Astray is Amy Christine Parker's nerve-fraying sequel to Gated. This fast-paced psychological thriller is masterfully plotted and sure to leave goose bumps. Perfect for fans of creepy YA thrillers and contemporary fiction alike.
*Received finished copy from the publisher in exchange of an honest review.
When I saw that Ms. Parker was releasing a continuation to Lyla's story, I just had to read it. Gated was my first experience with such a plot about a closed off, cult-like community basically led by a lunatic, and I was very intrigued as to what would happen to the members once their lives had been interrupted and their leader taken away. I wanted to know if they would have a change of heart and come to the realization that Pioneer was only brainwashing them.
Astray gave me an eye-opening. It's certainly not easy to leave all you've believed in for so many years behind. The community members were as devoted as ever, and they kept trying to lure Lyla back to them. Throughout the book, it was a struggle for Lyla to try and figure out her place; where she belonged, were her beliefs wrong, and if she made a mistake. There were times I grew frustrated with her for doubting all that she'd done in the first book and for thinking that maybe things should have stayed the way they were. Then I had to remind myself that Lyla needs time to sort out her life. It takes years for people like her and the other members of the community to really let go of all that they were fed by Pioneer.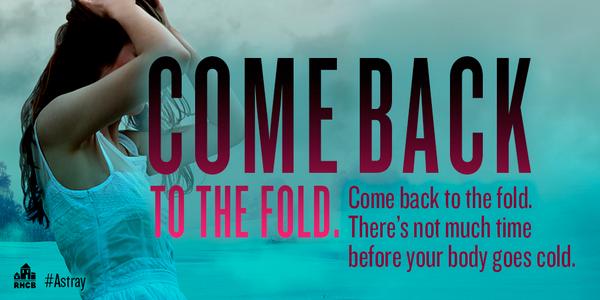 I must point out that the majority of the book dealt with Lyla fitting in, as well as how the Outsiders react to the community. So it was a little slow building to what would happen in this continuation. Pioneer is in jail for his crimes and is awaiting trial, but not without getting members of the community to torment Lyla. Interesting, how he still had so much power over them to even convince them to prove their faith to him.
I wanted to cry when Lyla took the risk and ended up going back and they made her prove herself as well. But she was so drained after their recentering process that she didn't even care anymore. I got nervous. I thought for a second there we'd lost her again, but then when she found Cody's note and her senses snapped back, I knew she was starting to see again that their way was wrong and she had to leave.
Oh, for those looking for the spooky, there was a bit of that. Like how one of them would show up at the Sheriff's house and move things around, as well as the photos she found at her parents' trailer. Indeed, there was a bit of creepy thrown in the mist. It wasn't a lot though. Aside from the empty stares and spine-chilling chants, it wasn't as frightening as one might want it to be, but the story definitely aroused my curiosity because I wanted to see how everything would work out.
The ending was great. I knew Mr. Brown, Brian, and Jonathan were up to something extreme, but I had no idea what. So that was just crazy. In the end, Lyla did another brave thing and saved the "Outsiders". In spite of their treatment, she risked her life for theirs. I was very satisfied with how things wrapped up, just a little sad that Lyla's mom is in such a hopeless state. I guess it's harder for some to give up their beliefs.
Overall, it was great experience. Wonderful writing as usual. A slow pace, but an intriguing story. I actually smiled when Lyla finally found the peace that she was looking for, and I'm happy that she's developed into a fearless young lady. Good job, Ms. Parker. I look forward to your next book.
AMY CHRISTINE PARKER earned her degree in elementary education at Southeastern University in Lakeland, Florida, and then proceeded to try out many different jobs, including collectible doll maker, fondue waitress, and inner-city schoolteacher. It wasn't until she became a mom and began making up bedtime stories for her children that she finally realized what she was meant to do. Now Amy writes full-time from her home near Tampa, Florida, where she lives with her husband, their two daughters, and one ridiculously fat cat.