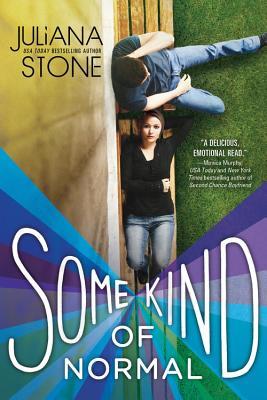 Release date: May 5th 2015
Publisher: Sourcebooks Fire
Purchase:
Amazon
Synopsis via Goodreads:
What is Normal?
For Trevor normal was fast guitar licks, catching game-winning passes and partying all night. Until a car accident leaves Trevor with no band, no teammates and no chance of graduating. It's kinda hard to ace your finals when you've been in a coma. The last thing he needs is stuck-up Everly Jenkins as his new tutor—those beautiful blue eyes catching every last flaw.
For Everly normal was a perfect family around the dinner table, playing piano at Sunday service and sunning by the pool. Until she discovers her whole life is a lie. Now the perfect pastor's daughter is hiding a life-changing secret, one that is slowly tearing her family apart. And spending the summer with notorious flirt Trevor Lewis means her darkest secret could be exposed.
*Publisher approved via Netgalley
I had high expectations after reading the blurb, and usually I try not to go into a book blind but I'm always looking for an intense read. Thankfully, Some Kind of Normal delivered.
The book is written in alternating POVs, giving readers a chance to get inside the heads of the main characters and try to establish an understanding of what their lives are like. Trevor had gone through a terrible accident and got a brain injury from it. Throughout the story, we see how he copes (or not) and how his TBI has impacted his dream of becoming a musician. He truly believed that he could still achieve the same goals, but then out of nowhere another horrible thing happens and he's forced to re-evaluate and decide whether he can go after his dream or switch to a different plan altogether.
In Everly's situation, it becomes clear right away that her family isn't as perfect as everyone in their community thinks it is. Her father is hiding a secret and her mother is stuck in denial. Eventually, it all comes unraveling and Everly has to come to terms with the fact that her family won't be the same again.
What I enjoyed about this story is how flawed the characters are and how relatable. Also, it was nice to see that amidst their pain and learning to adjust to their situation, that they could find love. That was a sweeter side to a mostly sad story and their romance felt real. It wasn't something that happened right away; it blossomed while they were suffering and in the end, their love helped heal their hearts.
Some Kind of Normal is nicely written and the characters are easy to connect with. The plot is different for me, in the sense that I hadn't read a book about someone with TBI, and it was interesting to see how Trevor was living with that: the fears he felt and how uncomfortable he was when people would look at him in that way. I liked how Everyly reacted to the truth about her father. It was real, and all in all, love was still there. She stayed supportive in spite of her family coming apart, and I liked that in the end everyone found peace within themselves and with each other.
I highly recommend giving this one a read if you're looking for a story that's intense and realistic.
Juliana Stone's love of the written word and 80s rock, have inspired her in more ways than one. She writes contemporary romance, paranormal romance and will debut a young adult novel in 2014. She spends her days navigating a busy life that includes, a husband, kids, a dog and a cat.