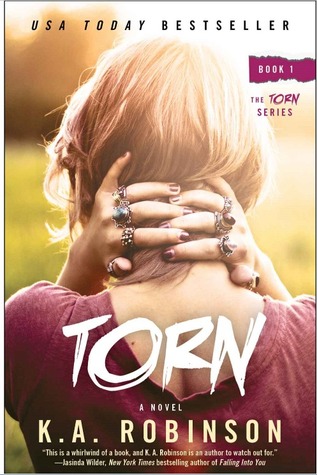 Series: Torn #1
Release date: May 7th 2013
Publisher: Atria Publishing
Purchase:
Amazon
Synopsis via Goodreads:
Chloe hasn't had the best life. With a mother who is gone more often than not, she has had to raise herself. After graduating high school, she leaves to start a new life away at West Virginia University with her best friends Amber and Logan, determined to leave her demons in the past.
On her first day, she meets a stranger who takes her breath away at first sight. Until she met Drake, no one had ever sparked her interest. Now this tattooed and pierced bad boy is all she can think about, no matter how hard she fights it.
Falling for Drake was never part of her plans, but when it happens, things seem to do anything but fall into place.
Dealing with a tragic past, Drake has never cared about anyone else but himself and his band. But when Chloe takes the empty seat next to him in class, things start to change. Instantly drawn to her, he begins to wonder if one girl can take a cold hearted womanizer and change every part of him?
Long hidden feelings are revealed and friendships tested to the brink.
*Approved via Netgalley in exchange of an honest review
Torn really had me going at start. I was immediately caught up in the wittiness of the story, and I I fell for Drake as fast as Chloe did. I was laughing with their dialogues, swooning to their flirtations, sympathizing to their issues. The fireworks were there. Then when it got to the middle of the story, I became annoyed with Chloe and the decisions she'd make. Yes, Drake's feeling of inadequacy drove her away, but that doesn't mean stringing her friend and a guy who has a crush on her along. I feel like she never stopped to think of how that in particular would hurt him, the fact that she was making him feel that his feelings were reciprocated.
What Chloe did was sway back and forth between two guys and caused a lot of heartache for both. I mean, clearly she didn't love Logan. So what the hell! How did she end up doing what she did with him? There's definitely something wrong with this girl (on a sexual scale) and regardless of what she'd gone through as a child, I've wanted to slap her so many times throughout the story. Chloe's character is the reason why I ended up not giving the book five stars. She pissed me off too much. I mean, like I said, I loved Drake. I also liked Amber and her humorous personality (that lessened the tension for me). I honestly didn't warm up to Logan or anyone else, but nothing compares to the bewilderment I had to endure because of Chloe. She was quite a piece of work. She was a wreck, to be exact.
But in spite of my love-hate relationship with the main character, I'm curious about her mother and would like to learn more in regards to that aspect of the story. I'm not so intrigued by her relationship with Drake because of the issues she caused on the journey to finally coming to her senses. But I do want to see if there'll be growth for each character and discover more about Drake and his past.