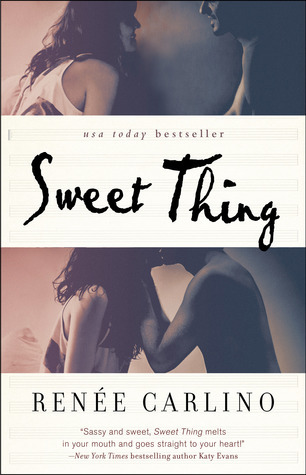 Series: Sweet Thing #1
Release date: August 20th 2013
Purchase:
Amazon
Publisher: Atria Books
Synopsis via Goodreads:
"You have to teach your heart and mind how to sing together…then you'll hear the sound of your soul."
Mia Kelly thinks she has it all figured out. She's an Ivy League graduate, a classically trained pianist, and the beloved daughter of a sensible mother and offbeat father. Yet Mia has been stalling since graduation, torn between putting her business degree to use and exploring music, her true love.
When her father unexpectedly dies, she decides to pick up the threads of his life while she figures out her own. Uprooting herself from Ann Arbor to New York City, Mia takes over her father's café, a treasured neighborhood institution that plays host to undiscovered musicians and artists. She's denied herself the thrilling and unpredictable life of a musician, but a chance encounter with Will, a sweet, gorgeous, and charming guitarist, offers her a glimpse of what could be. When Will becomes her friend and then her roommate, she does everything in her power to suppress her passions-for him, for music-but her father's legacy slowly opens her heart to the possibility of something more.
A "heartbreaking and romantic" (Aestas Book Blog) debut, Sweet Thing explores the intensity and complexities of first love and self-discovery.
*Purchased ebook via Amazon
Sweet Thing was one hell of a rollercoaster ride of emotions for me. I liked the plot and fluidity of the story. It was very interesting through and through. The only reason why I'm not giving it full on five stars is because of Mia. I mean, while I understand what she was going through in losing her father and how difficult the grieving process was, I just got so mad at her throughout the story. She nearly drove me insane with her stupid choices or lack thereof. I mean,
I loved Will. I admired the kind of person he was and how musically gifted his character was. So it really hurt me that she would push this wonderful man away when he was so willing to give her all the love in the world. All I can say is that my gosh, he's quite patient and it takes a lot of love for one person to put up with someone like Mia.
Don't get me wrong, she wasn't totally moronic. It's just that she had a tendency to make things harder than they ought to be, along with putting herself through a lot of heartache all because she was "still searching for the right path in life". And then in the beginning and at certain instances it seemed she was too concerned about Will's status and whether or not he'd make money. I don't know if I misinterpreted her intentions on those occasions but it kind of turned me off a bit and made her appear materialistic.
But what was clear was the fact that she was desperately seeking the next step. And l
ike I said, that is understandable, but holy crap it took her a really long time to make up her damn mind. And to be honest, I wasn't empathetic towards her when her hardheadedness finally drove Will away. I wanted her to taste the kind of pain she was putting him through by denying his feelings and hers. It's really like they say, how you never know what you've got till it's gone and Mia learned that when Will was no longer apart of her life for a while. I know it's mean, but I wanted her to suffer longer just for giving me a headache throughout the story, too.
Overall, it was a great read. Very interesting writing and solid characters with their own unique qualities. I liked how it all worked out and especially enjoyed seeing things from Will's perspective for a while there. Also, I like how Lauren's character impacted their relationship. At first when the story opened up in her POV, I was like okay, who is this and where has she disappeared to because I didn't read the synopsis. But then when all was unraveled I got it. It was a great way to connect the dots. This is a very talented author and I look forward to reading the next one.