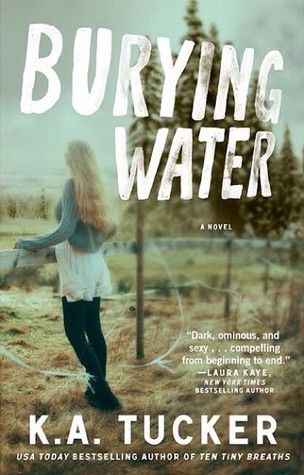 Release date: October 7th 2014
Publisher: Atria
Purchase: Amazon | B&N
Synopsis via Goodreads:
Left for dead in the fields of rural Oregon, a young woman defies all odds and survives—but she awakens with no idea who she is, or what happened to her. Refusing to answer to "Jane Doe" for another day, the woman renames herself "Water" for the tiny, hidden marking on her body—the only clue to her past. Taken in by old Ginny Fitzgerald, a crotchety but kind lady living on a nearby horse farm, Water slowly begins building a new life. But as she attempts to piece together the fleeting slivers of her memory, more questions emerge: Who is the next-door neighbor, quietly toiling under the hood of his Barracuda? Why won't Ginny let him step foot on her property? And why does Water feel she recognizes him?
Twenty-four-year-old Jesse Welles doesn't know how long it will be before Water gets her memory back. For her sake, Jesse hopes the answer is never. He knows that she'll stay so much safer—and happier—that way. And that's why, as hard as it is, he needs to keep his distance. Because getting too close could flood her with realities better left buried.
The trouble is, water always seems to find its way to the surface.
*Received physical ARC from the publisher in exchange of an honest review
Burying Water has an intriguing plot, great writing, and interesting characters (even the side ones offered something significant), but I feel like there was something missing for me. It didn't give me the fireworks.
I liked the opening of the story and the concept of this girl waking up with no memory of being brutally attacked. I yearned to connect the dots and understand the connection between her and the guy who found her. It didn't take long to interpret their relationship, as some things were brought out pretty clearly.
From the beginning, I got to see Jane Doe, who became Water, get a fresh start and learn to adjust to her situation. While readers are unraveling the kind of person she is, we're also learning about her in the past from Jesse, and at the same time developing an idea of the kind of guy he is and his feelings for Water. Their romance was wrong, but right. Water's situation before losing her memory was quite intense, and though I wasn't okay with how young she was when she found herself with such a man like her husband, I know it happens in real life, so I can understand her fear in wanting to leave.
As I've mentioned, the side characters also contributed greatly to the story. Like Jesse's friend Boone, his family, and the old lady who loved to make quilts next door: Ginny. Her character impacted Water the strongest, in my opinion. They both connected with their own share of tragedy, and Ginny turned out not to be as bitter as some might have thought. She was a very insightful woman and I understand her reasons for wanting to stay away from the rest of the world. She was my favorite character, and I enjoyed her character throughout the story for how straightforward and honest she was.
To conclude, I'll say again how interesting the plot was, and how wonderfully written the story was, but after the opening chapter, it just felt a little stretched out to me and there were times I found myself zoning out in both POVs. It's a good story, but it's like something's missing. I'm not sure. But it does deliver in certain parts where emotions are concerned, and I liked how everything wrapped up in the end.