Release date: January 3rd 2017
Publisher: Sourcebooks
Purchase:
Amazon
A teenage misfit named Hawthorn Creely inserts herself in the investigation of missing person Lizzie Lovett, who disappeared mysteriously while camping with her boyfriend. Hawthorn doesn't mean to interfere, but she has a pretty crazy theory about what happened to Lizzie. In order to prove it, she decides to immerse herself in Lizzie's life. That includes taking her job... and her boyfriend. It's a huge risk — but it's just what Hawthorn needs to find her own place in the world.

*Publisher approved request via Netgalley in exchange for an honest review.
I was a bit surprised that I ended up liking this one more than I'd expected to, because initially, Hawthorn's character was a huge turn off and some things in the story made me cringe. We'll get to the cringing part later. First, let's discuss her personality.
Hawthorn came across too immature and somewhat detached. Her thoughts and the things she'd say baffled me, a lot. She had no consideration for other people's feelings and was way too caught up with what others thought about her and constantly saying she was perceived as a loser because she didn't go to an event or wasn't super popular. The latter aside, because no one cared, I felt like she was too much in her own world and never regarded anyone else, in particularly her supposedly best friend, Emily, and her brother. And maybe she'd even have more friends if she would open up more and check her attitude.
But in spite of her seemingly selfish ways and immaturity, I found myself laughing at times at her sarcasm
and ridiculous conclusions about Lizzie Lovett's disappearance.
The mystery surrounding Lizzie kept my interest for the most part. I wanted to know what happened to her and why everyone was so in love with her, especially Hawthorn. She'd only spoken to Lizzie once and had somehow developed this unhealthy fascination with the girl. It definitely irked my being seeing how obsessed Hawthorn was, I mean to go as far as to work at the same place and spend time with Lizzie's boyfriend was just weird. Still,
I kept reading because I wanted to see if Hawthorn's character would experience growth; open her eyes and see that there were more important things in life and that the world didn't revolve around her.
Back to what made me cringe. The situation with Hawthorn and Lizzie's boyfriend was seriously inappropriate. And I was beyond surprised at how lightly it was handled by Hawthorn's parents. She'd heard them complaining that Hawthorn was spending too much time with him, but it was never really addressed and their positions in the story as parents was rather disappointing to me. They could have done more in regards to their seventeen-year-old daughter. Maybe that's why Hawthorn was like that to begin with. Anyway,
regardless of the issues I had, I still liked the story. The writing's great, very intriguing. And while Hawthorn wasn't the most likable character and her behavior often made me want to shake the hell out of her, I did love her brother's friend and the visitors her mother had welcomed. They provided great insight that helped change Hawthorn's perspective, and in the end, I could feel the change that started to take place in her.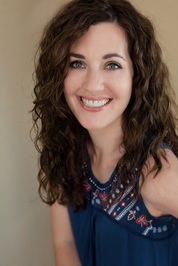 About the Author
Chelsea Sedoti fell in love with writing at a young age after discovering that making up stories was more fun than doing her school work (her teachers didn't always appreciate this.) In an effort to avoid getting a "real" job, Chelsea explored careers as a balloon twister, filmmaker, and paranormal investigator. Eventually she realized that her true passion is writing about flawed teenagers who are also afraid of growing up. When she's not at the computer, Chelsea spends her time exploring abandoned buildings, eating junk food at roadside diners, and trying to befriend every animal in the world. She lives in Las Vegas, Nevada where she avoids casinos, but loves roaming the Mojave Desert.