Welcome to the first Behind the Pages interview of 2015! The awesome Jessica Verdi has taken the time to talk about her writing, among other things. Be sure to continue below for an awesome giveaway as well.
The realization that I wanted to be a writer happened a little later for me than many other authors I know. I always wanted to be an actor and a singer, and that's what I went to school for and what I spent my twenties doing. It wasn't until my late twenties, when I was becoming increasingly frustrated with constantly waiting around for opportunities to work and be creative, that I started seeking other outlets. I realized that with writing, I could do it whenever I wanted and on my own terms, rather than having to wait to be cast in something, and it was so much more fulfilling. After that, I never looked back!!
2. Who are some of your biggest influences, in literature or otherwise?
Ned Vizzini was one of my hugest influences as a writer. He was a genius at writing about serious, complicated issues, but while also being funny and non-serious at times. That's what I always strive to do with my work.
3. Why Realistic YA? Have you ever considered other genres like Fantasy or Dystopian?
I love realistic YA because it gives me a chance to write about certain things in our world that I think warrant more discussion and voices. But yes, I have dabbled in fantasy, and the book that I just finished (with my co-author Amy Ewing) is definitely in the fantasy/paranormal realm! I love all genres, and hope to get to explore all of them at some point.
4. What compelled you to write
"My Life After Now"
and how challenging was it?
I wrote My Life After Now because I was feeling discouraged at how complacent our society has become regarding HIV/AIDS. The medical advances have been great, so people aren't dying of AIDS as much as they used to, and in turn people seem to have almost forgotten about it. But there is still no cure, and young people are still contracting HIV at an alarming rate, so I wanted to do my small part in getting that conversation and awareness going again.
5.
"The Summer I Wasn't Me"
touches on a heavy topic as well. What message were you trying to bring forth with both books?
I don't think I had a particular "message"—whatever the reader takes away from the books is totally okay! But I do think it's important to get conversations going, and put a human (albeit fictional) face to many of these issues. If there's anything I hope readers take away from my books, it's a little more understanding, a little more openmindedness. And hopefully they'll continue the conversation with their own work or the people in their own lives.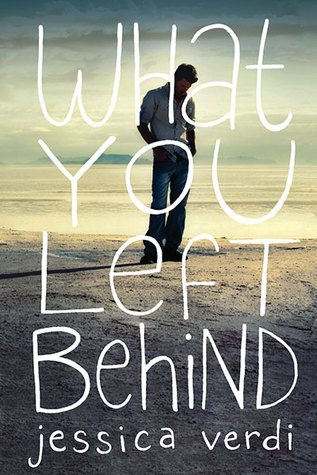 6. Tell us about
"What You Left Behind"
, in regards to how it differs from your two previous releases.
The biggest difference for sure is that What You Left Behind is written from the perspective of a boy main character! His name is Ryden Brooks, and he's a single teen father struggling with learning how to be a dad, grieving the death of his girlfriend (which he feels responsible for), and trying to figure out how to balance his old life with his new one.
7. Was it difficult writing from the POV of a male character?
It wasn't, surprisingly! For some reason, I just really knew Ryden from the beginning, and I felt so connected to him. I loved being in his head for the year or so it took me to write the book.
8. Are you working on anything now? Can you give us a snippet?
As mentioned above, I've recently finished a paranormal novel with Amy Ewing. We've revised it a couple times, and now it's with our beta readers. After the next revision, we'll be sending it off to our agents, who will hopefully like it! Haha. It's a little too early to give a sneak peek, but I will say that it's a very unusual book, and creepy in (I hope) a good way. :)
9. Besides writing, how do you creatively express yourself?
I love to sing! Showtunes, pop, in the shower or on a karaoke stage, it doesn't matter.
10. Thank you for taking the time, Jess. Please leave a message for aspiring writers.
Thank you so much for having me on your blog, Shane, and thank you to everyone who took the time to read this! For any aspiring writers out there, remember that you have a unique voice, a perspective on the world that's only yours, and there is a reader out there who WILL connect with what you have to say. So write for that one person (or many people), and don't worry about the rest.
Brief Bio:
Jessica Verdi is a young adult author who writes envelope-pushing stories about not-so-pretty real-life issues, but always with a positive spin.
Though she's always been a bookworm (her childhood was basically defined by the philosophy that working your way through giant stacks of library books is far superior to playing outside), she remained convinced throughout high school and college that the stage—rather than the page—was meant to be her creative outlet. After nearly ten years pounding the NYC pavement auditioning for musicals (and sometimes actually getting cast in them), she got an idea for a novel. That novel was an adult magical realism story, and while it will never see the light of day—nope, don't ask—it was the book that started her love affair with writing. Now she can't imagine doing anything else.
Jess received her MFA in Writing for Children from The New School and works as an editor at a romance novel publisher. She loves all animals, from the cute and cuddly to the large and freakish, has been a vegetarian for most of her life, is a little too obsessed with TV shows about vampires, and has an amazing group of writer friends who keep her sane.
Jess lives in Brooklyn, NY with her husband and dog.
Connect with her:
Win a copy of The Summer I Wasn't Me. Thanks to Sourcebooks for sponsoring this giveaway.