Series: Bourbon Street Boys #1
Release date: September 22nd 2015
Publisher: Montlake Romance
Purchase:
Amazon
Synopsis via Goodreads:
When a mysterious text message summons May Wexler to a biker bar in downtown New Orleans, she knows something is very wrong. Her sister has sent out an SOS, but when May gets there, she's nowhere to be found and May is the one in trouble—she's wearing pink espadrilles, she's got a Chihuahua in her purse, and she's in the middle of a shootout.
After tall, muscular Ozzie comes to her rescue, May has no choice but to follow him to safety. At the headquarters of his private security firm, the Bourbon Street Boys, she finds a refuge for the night—and the offer of a job. But it's not long before a gun-toting stalker isn't the only complication in May's life: the more time she spends with Ozzie, the less she can deny that they've got some serious chemistry. A wrong number got her into this mess…Will it also get her the right guy?
*Publisher approved request via Netgalley in exchange for an honest review.
I've been meaning to check out Elle Casey's books for some time now, and after finding Wrong Number Right Guy on netgalley, I just had to give it a go based on that reason, and I liked the title.
I didn't read the blurb; I went into the story blind but hoping to be entertained. And I got that from the start.
The main characters' first encounter was just hilarious if not super weird. Receiving text messages accidentally happens to most of us, but not once have I ever gotten up and gone to a place because of those texts though. No matter who I believed they were from. In May's case, she was utterly convinced that the texts were from her older sister in need of her support. No matter how obviously intense the spot was, and the fact that May knows her sister would never go to such a place, much less bring her kids there, she still continued to browse around the bar looking for them. This chick stood out like a sore thumb in this tough bar, and that's when all hell broke loose for her and Ozzie had to save her from getting killed. Not once, but a few more times after that because May was somewhat oblivious to the situation even after Ozzie explained it to her. That's one of the things that frustrated me about May, and I didn't really connect with her, but like I said, the story was entertaining and I liked her thoughts about Ozzie and how hard it was for her to control her attraction.
The whole security team thing was an interesting part of the story. I liked what Ozzie and his friends did and I would love to learn more about each character, in particular Toni, as well as dive deeper in regards to them carrying out missions and getting in more suspenseful situations. Aside from that, I felt like the story was more about May tapping into her inner strength, finding something she could be passionate about, feeling like she was part of a good team, as well as learning to trust a guy for once. The angst between May and Ozzie was certainly enjoyable, and I liked how throughout there were humorous moments to help keep things interesting and not too dry.
Overall, it was a good read. I wouldn't say I was completely in love with the story or characters, but I was entertained for the most part. If you're looking for a quick and light read with some intense scenes here and there, give this one a read.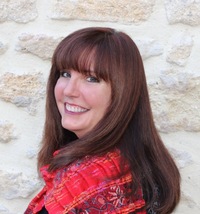 About the Author
Elle Casey is a prolific, NEW YORK TIMES and USA TODAY bestselling American writer who lives in Southern France with her husband, three kids, and several furry friends. She writes in several genres and publishes an average of one full-length novel per month.