Series:
Elementals #1
Release date: January 26th 2016
Publisher: Dreamscape Publishing
Purchase:
Amazon
Synopsis via Goodreads:
Filled with magic, thrilling adventure, and sweet romance, Elementals is the first in a new series that fans of mythology will love!
When Nicole Cassidy moves from sunny Georgia to gloomy New England, the last thing she expects is to learn that her homeroom is a cover for a secret coven of witches. Even more surprisingly ... she's apparently a witch herself. Despite doubts about her newfound abilities, Nicole is welcomed into this ancient circle of witches and is bedazzled by their powers--and, to her dismay, by Blake--the school's notorious bad-boy.
Girls who get close to Blake wind up hurt. His girlfriend Danielle will do anything to keep them away, even if she must resort to using dark magic. But the chemistry between Blake and Nicole is undeniable, and despite wanting to protect Nicole from Danielle's wrath, he finds it impossible to keep his distance.
When the Olympian Comet shoots through the sky for the first time in three thousand years, Nicole, Blake, Danielle, and two others in their homeroom are gifted with mysterious powers over the elements. But the comet has another effect--it opens the portal to the prison world that has contained the Titans for centuries. After an ancient monster escapes and attacks Nicole and Blake, it's up to them and the others to follow the clues from a cryptic prophecy so that they can save their town ... and possibly the world.
*Publisher approved request via Netgalley in exchange for an honest review.
The Prophecy of Shadows was quite the quick adventure. The story jumped right into it. There wasn't a lot of time spent on Nicole's character, in regards to setting up a connection for me or unraveling her family life and who she was as a person. I had to take it how it came as the story went on, and things did move quite fast. I usually love fast-paced stories that don't drag or overwhelm with too much detail, but in this case, I wish the author had taken a little more time before bringing on the adventure. I probably would have connected more with Nicole and the other characters had it been like that. It just sort of felt like things were a tad rushed. I mean, Nicole had just moved to this new place and starting a new school, but then she's placed in a homeroom with unique students and a teacher telling her she's a witch and that magic exists. I would think stuff like that would be hard to take in and she'd need a little more time to become convinced, especially when Nicole hadn't experienced any weirdness in her life prior to coming to this place. But seemed like she believed way too soon and too easily. Also, after the whole comet thing, the adventure took off so fast and too much was starting to happen early, in particular Nicole's attraction to Blake.
I didn't care for Blake at all, and that mostly had to do with the fact that he wouldn't put up a stand against Danielle and not allow her to carry on in that way, hurting people she was jealous of who got too close to him. I mean, clearly Danielle was quite a trip, but had he fought against her nonsense perhaps some people wouldn't have gotten hurt.
Anyway, aside from those things, I still liked the premise and the whole mythological aspect of the story. I liked how a bit of mystery was thrown in the mix when all five went on this scavenger hunt with each clue having to do with one of the abilities. So even though it went by quickly, the adventure was still an enjoyable one and I am curious about the second book after what happened in the caves with Nicole's power, and I am looking forward to seeing how the overall story and characters progress.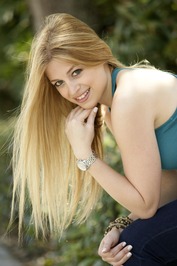 About the Author
Michelle Madow grew up in Baltimore, and now lives in Boca Raton, Florida, where she writes books for young adults. Some of her favorite things are: reading, pizza, traveling, shopping, time travel, Broadway musicals, and spending time with friends and family. Michelle has toured across America to promote her books and to encourage high school students to embrace reading and writing. Someday, she hopes to travel the world for a year on a cruise ship.
instagram.com/michellemadow